You are here
Federal Judicial Center Celebrates 50 Years: Federal Judicial Television Network (FJTN)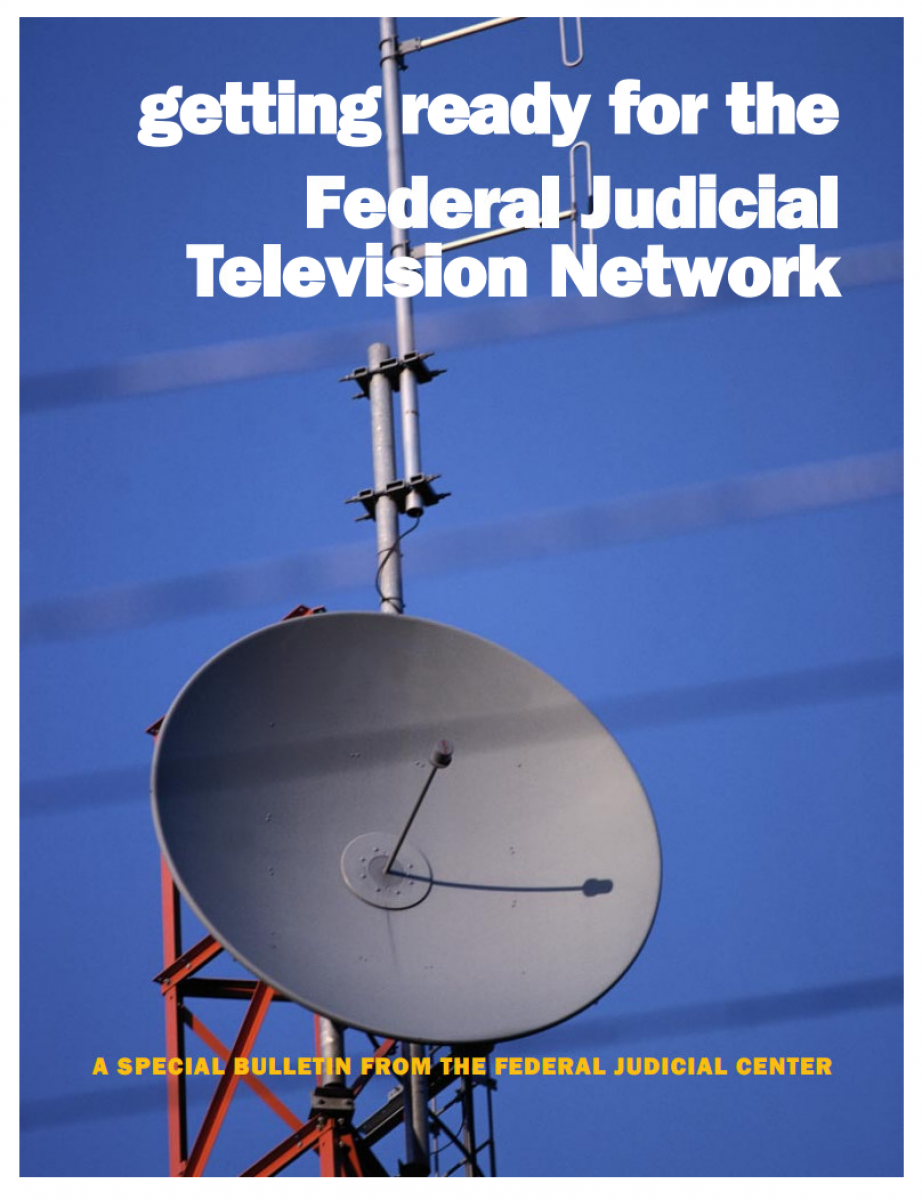 In July 1996 the FJC proposed the idea of a federal judicial television network using antennas at court locations for satellite broadcast. The Administrative Office and Sentencing Commission endorsed the concept.
On February 27, 1998, the FJC inaugurated its teletraining studio with a live, three-hour broadcast, Domestic Violence Awareness for Probation & Pretrial Services Officers. Broadcast coordinates were given to the courts who could arrange to watch via a separate provider's satellite. The Federal Judicial Television Network (FJTN) officially launched on April 30, 1998, and broadcast its first program, Introduction to the Federal Judicial Television Network and Interactive Video Teletraining (live and interactive via Push-To-Talk), to about 40 federal courthouse satellite downlinks. The FJTN grew to approximately 300 downlink sites, making it the federal government's second-largest civilian private broadcasting network.
The FJTN began with 25 programs, aired bimonthly, a few hours each day (not all days) and eventually expanded to broadcasting about 80 bimonthly programs, 40 hours per week, five days a week. The schedule and program descriptions were detailed in the FJTN Bulletins, which were printed and mailed to the courts. Starting with No. 26, the bulletins were produced and distributed only electronically (as PDFs). Courts received emails when a new bulletin was posted to the DCN (judiciary's intranet network). FJTN Bulletin No. 80 was the last to be published as a PDF. The FJC continued to publish an electronic broadcast calendar for each month, with links to individual program descriptions. FJTN transitioned to webcasting and ceased satellite network operations as of January 1, 2012.
Sample FJTN Bulletins:
FJTN Bulletin no. 6 (Oct. & Nov. 1998) Noteworthy: More than 150 court locations are now on the Federal Judicial Television Network.
FJTN Bulletin no. 25 (Dec. 2001 & Jan. 2002) ​Noteworthy: The FJTN has now grown to 300 sites installed and operating. The FJTN has become one of the premier federal government satellite-based distance learning networks based on the number of installed downlinks, the length of our broadcast day, and the wide variety in the types of programs offered.
FJTN Bulletin no. 26 (Feb. & March 2002) Noteworthy: In an effort to reduce paper mailings, the FJTN Bulletin will be available online only. The courts will be notified, via E-mails sent to court unit executives and court training specialists, when the Bulletin has been posted.
FJTN Bulletin no. 50 (Feb. & March 2006) Noteworthy: Several FJTN programs are now available in streaming video format.
FJTN Bulletin no. 51 (April & May 2006) New programs: Court to Court (April 2006) | The 8th Habit | Implementing the Bankruptcy Abuse Prevention and Consumer Protection Act of 2005: Early Experience | A Review of Ninth Circuit Bankruptcy Decisions (2005) | Federal Judiciary: Fiscal Year 2007 Appropriations Hearing | House Subcommittee on Crime, Terrorism and Homeland Security Oversight Hearing: U.S. v. Booker: One Year Later—Chaos or Status Quo? | IT Special Report—PACERNet | Telework: Managing Remote Workers for Results.
FJTN Bulletin no. 60 (Oct. & Nov. 2007) Noteworthy: The Center will launch its new intranet site, called FJC Online, on Oct. 1. FJC Online combines a clean, new look with improved navigation options to provide better, easier access to Center publications, education programs, and other resources—including streaming audio and video programs. |​ Bi-yearly Solar Outages on FJTN. Each spring and fall, an electromagnetic phenomenon occurs: the sun passes "behind" the satellite that delivers the television signal, interfering with the signal. These outages occur over four to five days, each lasting up to five minutes. This year the outages affecting our satellite will occur on October 5 thru 8, anywhere from 1:10 to 1:20 p.m. ET lasting from four to five minutes.
FJTN Bulletin no. 67 (Dec. 2008 & Jan. 2009) Noteworthy: Inauguration day program schedule. On January 20 the FJTN will not air regularly scheduled programming so that courts may watch coverage of the inauguration. | DTV transition won't affect FJTN. On February 17, 2009 all full-power broadcast television stations in the United States will stop broadcasting on analog airwaves and begin broadcasting only in digital. Because the FJTN is broadcast via satellite, it won't be affected by the digital TV (DTV) transition.
FJTN Bulletin no. 71 (Aug. & Sept. 2009) New programs: Advanced Guideline Issues: Criminal History | Court to Court (September 2009) | Supreme Court: The Term in Review (2008-2009) | Timeless Elements of a Great Closing Argument: Lessons from the Teapot Dome Trials | Constitution Day Dialogue with Supreme Court Justices Focuses on Jury Service | Project 365.
FJTN Bulletin no. 80 (Feb. & March 2011) Noteworthy: (Final FJTN Bulletin) FJTN Bulletin No. 80 is the last edition of the FJTN Bulletin. Most programs are available in streaming video format. | New programs ―​ Court to Court (March 2011) | Mental Health Issues: What Bankruptcy Judges Need to Know | A Review of Eighth Circuit Bankruptcy Decisions (2011 Broadcast) | A Review of Fourth Circuit Bankruptcy Decisions (2010) | Model Employment Dispute Resolution (EDR) Plan: Judges' Roundtable | Telework and COOP: Finding the Best Combination.
FJC Anniversary