You are here
Federal Judicial Center Celebrates 50 Years: Publications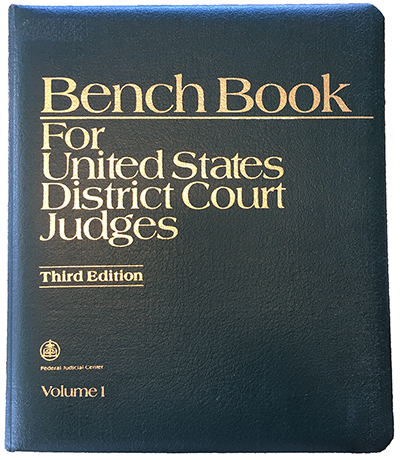 From its earliest years, the Center has been a respected, independent publisher within the judicial branch, disseminating its research reports and studies; educational handbooks, manuals, guides, and substantive legal monographs; and periodicals to judges, court personnel, and the broader legal community. Many Center publications are the result of research undertaken at the request of the Judicial Conference of the United States and its committees or are prepared at the suggestion of FJC education and research advisory committees. Some publications are mandated by Congress.
When publications are issued in hard copy they are printed through the U.S. Government Publishing Office. Most are also published in digital format. Occasionally, commercial publishers reprint FJC publications, enabling the work to reach wider audiences. Below is a sampling of publications that were issued during the FJC's first fifty years. 
1960s
1970s
While innovations in emerging technologies featured prominently in publications that were issued during this decade, the FJC established itself as a publisher across a wide spectrum of topics.
1980s
1990s
2000s
Treatment of Brady v. Maryland Material in United States District and State Courts' Rules, Orders, and Policies (2004)—prepared at the request of the Advisory Committee on Criminal Rules as it considers whether to propose amendments to Rules 11 and 16 to codify the disclosure requirements in Brady v. Maryland. The committee wanted to know whether federal district courts and state courts have adopted formal rules or standards that provide prosecutors with specific guidance on discharging their Brady obligations. This report describes the federal district court local rules, orders, and policies that address Brady material, and the treatment in state statutes and in state court rules and policies.

2003–2004 District Court Case-Weighting Study: Final Report to the Subcommittee on Judicial Statistics of the Committee on Judicial Resources of the Judicial Conference of the United States (2005)—a study, conducted in 2003–2004, to update existing case weights for federal district courts using an event-based method. This method, which was new to the federal courts, combined information on the type and frequency of case events with information on the time judges require to complete these events. The Judicial Conference Committee on Judicial Resources and its Subcommittee on Judicial Statistics, which requested the study, approved the new set of weights in June 2004.​

Patent Claim Construction: A Survey of Federal District Court Judges (2008)—presents the results of a survey of federal district court judges regarding their use of patent litigation case-management and claim-construction procedures. When applicable, the report also compares these judges' reported practices with the recommendations contained in four recent sources. 
2010s